Browsing articles tagged with "such - Dyslexia"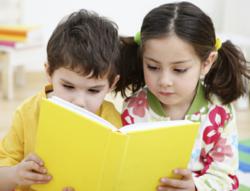 Malvern, PA (PRWEB) November 11, 2011
Pre-kindergarten and kindergarten children who may be at risk for reading challenges can be screened for reading readiness on Friday, November 18 at The Luma Center for Development and Learning in Malvern, PA.
The Luma Centers screenings will identify children showing early signs of dyslexia and reading challenges who are likely to benefit from Nemours BrightStart!, an innovative pre-reading program the Center is offering. Screening appointments can be made by calling 610-296-6725 x183.
Nemours BrightStart!, developed by Nemours Childrens Health System, is a specialized program for literacy success in at-risk children. Nemours studies show strong results for at-risk children who participate.
For children at risk for reading difficulties, early instruction in key literacy concepts can make such a difference in successfully learning to read. We are very pleased to be one of the only programs in the region to offer the innovative, research-based BrightStart! curriculum, to students and parents, said Nancy Allard, MA, OTR/L, Director of The Luma Center.
The 20-week program, which is taught by an experienced early literacy teacher, will take place on Tuesdays and Thursdays from 1:00pm-2:30pm. The session runs for 20 weeks.
More information about the BrightStart! enrollment process is available at http://www.lumacenter.org, along with information on other services and programs provided by The Luma Center, including tutoring/academic support, therapeutic services and private consultation to parents, professionals and organizations. The Luma Center is a program of Valley Forge Educational Services.
About the Luma Center for Development and Learning:

The Luma Center offers child development consultation and services to families and organizations to support children across home, school, and community environments. Our knowledgeable and skilled team comprises professionals from the fields of education, occupational, physical and speech therapies and psychology. The Center offers comprehensive occupational, physical, speech and language evaluations and individual therapies, sensory integration and praxis testing, developmental screenings, individualized student planning and learning support, parent coaching, and school year programs for 3-8 year-olds. The Center also offers therapeutic and social skills groups for preschoolers through teens under the guidance of experienced facilitators. The Luma Center is located in Malvern, PA and is a program of Valley Forge Educational Services.
###