Browsing articles tagged with "Florida - Dyslexia"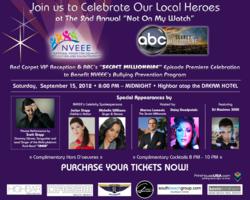 Miami Florida (PRWEB) September 07, 2012
On Saturday, September 15, 2012 at 8 PM till Midnight, National Voices for Equality, Education and Enlightenment (NVEEE), a Florida based 501(c)(3) non-profit organization with a mission to prevent bullying, violence and suicide, will welcome entertainers, celebrities, business leaders and elected officials as they host their 2nd Annual Not On My Watch (NOMW) Red Carpet VIP Reception.
The fundraiser will benefit NVEEEs Not On My Watch School-wide Bullying Prevention Program. Designed to initiate a systemic prevention network to reduce bullying incidents in school, this program will consist of a series of workshops and other in-school activities that will teach social skills, model specific actions, and demonstrate ways of behaving that empower students to reduce peer harassment and self-harm.
The NOMW campaign, is now a school-wide bullying prevention program now slated to be implemented in three (3) schools in South Florida for the the 2012 – 2013 year. This is a major accomplishment for NVEEE, and we did not do it alone. It came with the support of community members who are committed to safer schools and empowering youth to stand up and truly embody the change, instead of being told to change. said Jowharah Sanders, NVEEEs Founder and Executive Director.
Held at Highbar, atop the new Dream Hotel in South Beach, with featured co-host and honoree Marcus Lemonis, the event is to include a private acoustic set performed by Grammy Winner Scott Stapp, lead Singer of the multi-platinum rock band CREED; a silent auction to win a private jet round trip to Bahamas courtesy of Sky Limo Air Charter; complimentary h'orderves; open bar from 8 PM till 10 PM; and music by DJ Maximus 3000. To purchase tickets go to http://www.nveeesm.eventbrite.com.
NVEEE graciously acknowledges the generous contributions and support of sponsors:

Sky Limo Air Charter, Highbar, Dream South Beach, Kevin Tomlinson, South Beach Group Hotels, Agency Guerra, PrinthouseUSA, Marks List, Pandora Events, She Magazine, DJ Maximus 3000 and Reflections Productions.
About NVEEE

NVEEE is a community-based 501(c)(3) nonprofit established in October 2009. Our mission is to prevent bullying, violence and suicide among youth families and communities through direct service, mentoring and prevention education. NVEEE has a diverse team of professional educators, business leaders, parents and students who took their concerns about student safety and well-being and put their passion into actionmoving from bystanders to community leaders.
Headquartered in Ft. Lauderdale, with offices in Miami, NVEEE directly impacts the South Florida community, and now their work is expanding to communities in California, Georgia, New York, North, Carolina, Texas, Virginia, Washington, DC and Puerto Rico.
Visit http://www.NVEEE.org or call 1.855.2.BE.A.VOICE

Follow us: http://www.facebook.com/NVEEE

Follow us: http://twitter.com/NationalVoices
###
Find More Education Press Releases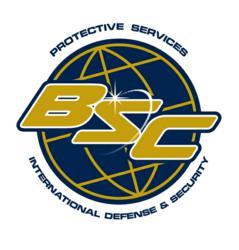 (PRWEB) August 31, 2012
Rosh Hashanah and Yom Kippur are the most important of all Jewish High Holy Days, and the only holidays that are purely religious, as they are not related to any historical or natural event. September 17th-25th mark a special gateway in the Jewish community of self reflection, prayer and on the 25th, fasting. In some parts of the world, the High Holy Days bring a time of caution and increased awareness in communities due to international politics involving the UN, Palestine and other nations.
Educational Computer Stolen From Florida City Special Needs School
FLORIDA CITY (CBS4) – A computer designed for special needs students was stolen from a Florida City school last weekend, according to a police report filed by the school's director. The I-Start Smart computer was one of two computers made specifically …
Read more on CBS Local


Special needs people face insensitivity
"It was a highly frustrating experience. In the first place, the lack of the facility itself was unexpected and disappointing. On top of it, I was shocked at the insensitivity when they told me we could get the refund for only one ticket. Would I and …
Read more on gulfnews.com


Hatboro YMCA cuts ribbons for new special needs gymnastics area
After more than a year of planning and fundraising, the Hatboro YMCA held a ribbon cutting July 25 for its new special needs gymnastics area. In partnership with the Hatboro Rotary Club, the YMCA converted a large storage area in the gymnasium to an …
Read more on Montgomery Newspapers


268 Special Needs Teachers Hired – Mulugo
In her question, Ms Kwegyir wanted the government to explain why it had failed to employ and post special needs teachers that had graduated at Patandi Teachers' Training College in 2010. Mr Mulugo explained that training of special-needs teachers at …
Read more on AllAfrica.com


Carol City special needs teacher is Florida Teacher of the Year
Miami-Dade teacher Alexandre Lopes won top honors in the state for his work with special-needs students. Lopes, who teaches a pre-kindergarten special-education class at Carol City Elementary, was named Macy's Florida Department of Education Teacher …
Read more on MiamiHerald.com


Friendship Circle brings joy to special-needs kids
But Lilly's visitors are teenagers volunteering their time through the Friendship Circle, a program managed by The Jewish Center in Lone Tree, and Lilly has special needs that make socializing a challenge. The program, just eight months old, already …
Read more on Our Colorado News


Spaghetti dinner fund-raiser for special needs
McDONOUGH — Organizers of the People First of Henry County annual Spaghetti Dinner describes the event as a night of food, fun, relaxation, and karaoke. The spaghetti dinner is scheduled for Sunday from 5 p.m. until 7:30 p.m., at the Henry County …
Read more on Henry Herald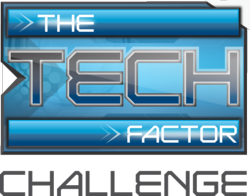 Margate, FL (PRWEB) June 12, 2012
Students from a variety of South Florida colleges and universities will face off on June 19 at 6:00 p.m. to determine which school produces the most knowledgeable IT experts. A live game show dubbed The Tech Factor Challenge will award $ 1,000 in cash to the top college team. The event will take place before an audience at the state-of-the-art technology campus of Saveology at 5259 Coconut Creek Parkway in Margate. A fast growing division of Saveology, MyTechHelp provides live 24/7 tech support for individuals and businesses.
Local colleges and universities who will field teams for the inaugural event include Atlantic Technical Center, ITT Tech, Keiser University, Florida Atlantic University, Florida International University and Nova Southeastern University. The colleges are encouraged to invite students to support their respective teams and to show school spirit.
The general public and the media are invited to attend the event, which is completely free and will feature a number of door prizes. At least 10 people in attendance will be randomly selected to receive year-long memberships to MyTechHelp, each valued at $ 120.00. Food and drinks will be available at deep discounts from Peronis Joint, a casual pizzeria and Italian grill which just opened several doors down in the Saveology Plaza and is owned by the Company.
MyTechHelp was created to provide our customers with around the clock repair services for every electronic device they may own, said MyTechHelp and Saveology CEO Benzion Aboud. We hope to attract a high-energy audience from the schools themselves, Margate and the surrounding cities and are excited to invite them into our home. Our vision is for the Saveology Plaza to serve as a catalyst for renewed growth, and the opening of Peronis Joint is another way that we hope to create some forward momentum and a gathering place for the Margate community.
During The Tech Factor Challenge, a panel of expert judges will put a series of increasingly difficult questions to the college teams. During the final round, each group will be asked to solve a complex problem, giving them the chance to demonstrate their computer abilities.
The Tech Factor Challenge is a great opportunity for us to evaluate the technical skills of young people coming out of local schools, said Meredith Jimenez, who serves as head of corporate development for MyTechHelp and Saveology. We expect to hire dozens of MyTechHelp team members in the coming months, and are always on the lookout for talented individuals with deep IT knowledge and experience.
In recent weeks MyTechHelp and Saveology have each held job fairs that have led to the hiring of dozens of new employees. The two companies expect to add a combined total of 700 new jobs over the next three years.
MyTechHelps technology experts help repair and optimize electronic devices ranging from computers (Macs and PCs) to home networks, smartphones, tablets, gaming consoles, digital cameras, televisions and more. Comfortable working with all types of products, operating systems and software, including Apple, Microsoft , and others, MyTechHelps staff resolves an impressive 96 percent of customer problems in just minutes.
About MyTechHelp

MyTechHelp is a national leader in providing technical support across various product brands and technology devices for individuals and small businesses. The rapidly expanding Company is headquartered in the United States and utilizes a team of highly skilled, American tech support agents who are available to provide live assistance 24 hours a day, seven days a week. Whether customers opt for a low-cost monthly subscription or one-time Instant Support, My Tech Help provides immediate and specialized remote assistance which resolves over 96 % of problems within minutes. The expert support team at MyTechHelp is prepared to repair or optimize any electronic product a person may have in his/her home. Learn more at http://www.mytechhelp.com.
Related Schools Press Releases
Coral Springs, FL (PRWEB) April 18, 2012
A 17-year-old high school senior has conducted an experiment utilizing research from a Harvard economist to discover that underperforming students can improve by at least one letter grade by using savvy technology with a little extra money in their pocket.
Rohit Bhandari, vice president of the senior class at JP Taravella High School in Coral Springs, paid 17 underperforming students $ 5 per day for 32 hour-long sessions over an eight-week period after school. The students, some of whom had learning disabilities, were asked to use various forms of powerful, technology based study aids to help improve in math. At the end of the term, 100 percent of the participants had improved by at least one letter grade, and in some cases, two or three letter grades.
For many students, it was the first time in their life that they had received an A in math, said Bhandari. One of our students would not have graduated if he failed in the fourth quarter, and he credits our program with helping him to graduate.
Now Bhandaris creation, the Financial Incentives and Technological Solutions Program (FITS), is spreading to three neighboring schools and he has been invited to speak to Floridas state legislature about its success.
Rohit started his math program with 17 students, some of which were my own students and as each day passed I saw more motivation and better test sores as a result, said Wendy Moskowitz, a Taravella High teacher.
FITS is based on the findings of a landmark study by Harvard economist Roland Fryer, Jr. widely reported in 2010 which found that paying students to study generated an improvement in test scores. Using private funds, Fryer paid 18,000 students from four different test cities a total of $ 6.3 million. The most significant results were seen in Dallas, where second graders were paid to read books. Fryer argued that paying students for grades produced a similar result to reducing class size, but at a fraction of the cost.
There is no better incentive for kids to learn than to actually pay them for doing well. I honesty do not believe my son would have passed Algebra 1 without having this extra help, said Taravella parent Shari Hain.
Bhandari says the pairing of intuitive technology with pay has the ability to boost test scores and grades even further than those in Fryers experiment. He raised $ 2,000 from local businesses, family and friends to launch the program at his school, where more than 300 students applied for the 17 spots. Participants improved their math scores by .79 standard deviations, four times the improvement found in the Harvard research and for just $ 200 per student. Rohit points out that cost is less than a tenth of the $ 2500 per student cost to reduce class size.
My program is a way to get students to spend a required amount of time investing in their education, but Im certain that once they do spend that time their motivation will come from the desire for continued success, not an external trigger such as money, said Bhandari.
Already, his theory is working. Two weeks ago, Bhandari launched the second segment of his program, this time with no money involved. The results thus far are promising and Bhandari believes he will be able to generate even larger improvements.
Bhandari is in the process of establishing a non-profit to promote his pilot program and hoping to create more cost effective ways to boost student success.
Find More Learning Disabilities Press Releases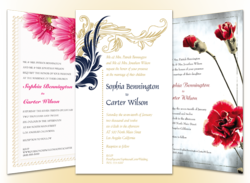 (PRWEB) May 21, 2012
PartyPOP.com recently announced free wedding invitations and an RSVP website for any engaged couple in the United States, Canada and the United Kingdom. The company has re-purposed their 2012 marketing budget in hopes of building brand awareness and loyalty. According to reports from within the Southern California based company, its working.
PartyPOP.com features over 2 million highly accomplished and professional companies in the event planning industry. Some of these companies include The Great Tiger of China Trading Company Inc., Leo's Ice Cream, Universal Ministries Rev Bill, Flowers The Clown, Fiesta Creations, Nito Gomez Caricatures and Photo Booth Rental by JNG Rentals, LLC.
The Great Tiger of China Trading Company Inc. has been bringing sparkle and fun to parties in the Austin, Texas area since 1983. The company offers wholesale party products to retailers, such as convenience stores, party shops and distributors. The products are considered as novelties by the federal government (classified as N.R.A.E- not regulated as explosive). The company offers free shipping on case purchases and liability insurance on provided products.
The Great Tiger are also authorized representatives for American Promotional Events, Inc. (dba TNT). Quality and supreme customer service are at the center of the company. Products include sparklers, confetti, smoke items, snappers, novelties, store corral and displays. The store corral and lean back displays can be set up at any stores or at a warehouse of customers choice with hats, horns, trick noise makers, champagne, party pops, snappers and more. More information can be found online at http://www.partypop.com/v/4395622.
Leo's Ice Cream is an ice cream truck for special events in Phoenix, Arizona With no event being too large or too small, the company focuses on providing high-quality service and customer satisfaction. Leo's Ice Cream provides a variety of sweet treats to choose from making sure customers will be happy working with Leos Ice Cream. More information can be found online at http://www.partypop.com/v/4395623.
Universal Ministries Rev Bill serves Tampa, Florida. Universal Ministries is a non-denominational Ministry based in the belief of the Holy Spirit of God. The Ministry performs all church related procedures including Marriages, Commitment and Renewal of Vows, Christenings, Welcoming Ceremonies, Counseling and Funeral Services. In preparation for weddings, Universal Ministries will work with the bride and groom to find the ceremony that best suits their needs and wants. Readings can be provided by the ministry or special readings the couple would like as a part of the ceremony can be included and may be read by a friend or a relative. Also offered are special inserts such as Unity Candle, Sand Pouring Ceremony, Rose and Vase Ceremony, as well as a special presentation for the bride and groom and their parents. The ministry also provides a Civil Ceremony which consists of an exchange of vows and rings. More information can be found online at http://www.partypop.com/v/4396681.
Melissa Wallace is a Clown Magician, Face Painter, Balloon Sculptures, Caricatures at Flowers The Clown. She has been a clown for over 19 years. Melissa is also a professional artist by trade and a Parsons School of Design graduate. Her goal is to provide customers with joy and repeat clientele. More information can be found at http://www.partypop.com/v/4397808.
Fiesta Creations specializes in childrens parties in Lake City, Florida. Fiesta Creations hosts family, holiday and corporate events. Events consist of detailed party packages, complete with elaborate d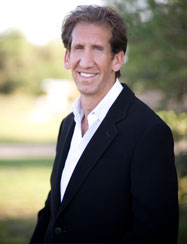 Clearwater, FL (PRWEB) May 03, 2012
Well-known periodontist, Dr. Stephen Kobernick, and his staff at The Art of Periodontics, are giving periodontal disease patients an alternative option to traditional gum surgery. This new dental surgery, called LANAP (Laser Assisted New Attachment Procedure) heals periodontal diseases with minimal pain and discomfort to the patient, revolutionizing the way that periodontal disease is treated.
Periodontist, Dr. Stephen Kobernick, is thrilled to offer his patients a new and less painful procedure. Instead of using a scalpel, which cuts off both diseased and healthy tissue, LANAP uses a tiny laser that detects and removes only the diseased tissue around the gums. Once the majority of the diseased tissue has been dissolved by the laser, the area can then be cleaned and the laser is again used to remove any bacteria and remaining diseased tissue.
LANAP is the first laser-based treatment for periodontal disease to be cleared by the FDA and is considered a minimally invasive surgical procedure. Studies show that this laser gum surgery actually enables bone to regenerate itself around the teeth, causes very little bleeding, and will not cause lower gum lines.
About The Art of Periodontics and Dr. Stephen Kobernick:
Dr. Kobernick earned his doctorate in dental surgery in 1988 from the University of Maryland School of Dentistry. He completed his specialty degree in Periodontics and Implant dentistry from the University of Alabama in 1990. Recently, he also completed training through the Institute of Advanced Laser Dentistry in preparation to be able to offer LANAP to his patients. Dr. Kobernick and his staff at The Art of Periodontics strive to deliver the best dental care possible to their patients in a caring environment. For more information on LANAP and the other dental services that Dr. Kobernick and the staff at The Art of Periodontist offers, please visit their website at http://clearwater-periodontist.com/.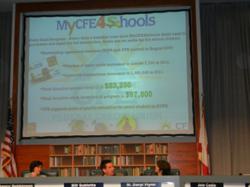 Lake Mary, FL (PRWEB) April 20, 2012
The 2012-13 State Budget referred to as the education budget, was signed by Governor Rick Scott on April 17, providing for $ 1 billion in additional education funding. This increase in funding provides some relief, but Central Floridas financially strained public schools could benefit from additional community support. Lake Mary based CFE Federal Credit Union (CFE) is helping meet the challenge, raising more than $ 90,000 in 2011 for Orange, Osceola and Seminole County public school districts with its innovative debit card program.
The debit card program known as MyCFE4Schools, was launched in August 2009 as an easy, no-cost way for credit union members to earn donations for their local school districts. Every time a member swipes his or her MyCFE4Schools debit card and signs for the purchase, CFE donates five cents to the school district of the members choice. At the end of each year the donations are totaled by school district, and each receives an annual lump sum amount. Those nickels add up quickly. Since the program began, CFE has raised a total of $ 166,500 for the three participating districts.
There is no limit on the amount of MyCFE4Schools donations that CFE will pay. Success depends upon the number of cardholders using the card to make signature purchases. The more they swipe, the more CFE pays, and theres no additional cost to the cardholder. CFE pays 100% of the donation and it does not charge an annual debit card fee. Considering that 60% of Florida voters say they would be willing to pay $ 200 more in taxes to provide increased funding for education according to a March, 2012 survey by the College Board, the MyCFE4Schools debit card seems like a clear solution for Central Floridians.
CFE has always been an avid partner in education, and MyCFE4Schools is an opportunity for members to actively participate in giving to schools without having to pay themselves said Suzanne Dusch, Vice President of Marketing for CFE. CFE originally began as an educators credit union, and although weve expanded our membership to all of Central Florida, weve never forgotten our roots.
CFEs membership is open to anyone who lives, works, attends school, volunteers, or worships in the Orange, Osceola, Lake or Seminole Counties of Florida. More information about the MyCFE4Schools debit card and credit union membership is available at CFEs website, http://www.mycfe.com.
CFE Federal Credit Union was founded in 1937 and currently serves approximately 121,000 members. As of January 31, 2012, CFE had total assets of over $ 1.290 billion and deposits of over $ 1,073 million.
###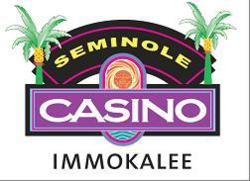 Immokalee, Florida (PRWEB) April 03, 2012
Seminole Casino Immokalee will bring its inaugural Balloons Over Paradise Festival to Immokalee Regional Airport on April 14-15, starting at 6 a.m. daily. This celebration of flight will feature 30 custom hot air balloons, live music by Grammy-nominated country singer John Anderson, award-winning food trucks, childrens activities, carnival games, artisan villages, demonstrations by agility dogs and more. The Immokalee Regional Airport is located at 165 Airpark Blvd. in Immokalee. Admission to the event is free.
Seminole Casino Immokalees Balloons Over Paradise will be a fantastic event for all, said Mike Reagan, CEO of the Greater Naples Chamber of Commerce. This is a great opportunity for all members of the family to see the extraordinary beauty of Southwest Florida.
The colorful balloons will kick off each morning at 6 a.m. with an illuminated light show to the music of Drum n Strings, a string quartet with a rock and jazz drummer. Festival-goers will be able to walk among the balloons as they inflate for a mass ascension into the skies and remain in air for several hours. Specialty balloons include the Flying Purple People Eater, a jolly monster with long legs and neon claws; Ham-Let, the worlds largest flying pig; and Miss Daisy, a flower that winks. Unfortunately balloon rides are not available this year.
Attendees will enjoy a great line-up of activities, all to the sounds of Southwest Florida Big Band, Jazz Scholars and Gene Ferrari. Children will join in on the fun with storytelling, puppet shows, bounce houses and a climbing wall.
We are honored to be part of this first-time event that is unlike anything else hosted in Collier County, said Karen Conley, President and CEO of Charity for Change. The hot air balloon festival will give children the opportunity to learn about science, art, music and the thrilling sense of adventure that the pilots get when they fly.
Gourmet food trucks will also be on hand, serving Italian cuisine, delectable cupcakes, Korean fusion, South American-inspired entrees and more. Food trucks include Ciao, Fat Tortillas, Grill Master Caf