---
---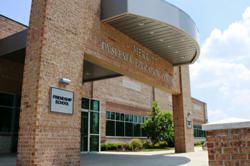 Eldersburg, MD (PRWEB) June 08, 2011
Friendship School (http://friendshipschool.org), an independent school specializing in the education of children with dyslexia, and Merritt Properties have agreed on a ten-year lease for the schools campus in Eldersburg, Maryland. The building and facilities were developed by Merritt Properties specifically for Friendship School and its students. The lease will allow the school to continue serving students grades 1-8 throughout Baltimore, Howard and Frederick counties, as well as other parts of Maryland.
Merritt Properties has also agreed to provide a grant to assist with 2011 operating costs. In addition, Merritt has allocated a gift of $ 100,000 over the next two years for marketing of the schools servicesmatching a gift from the France Merrick Foundation. According to Merritt CEO Scott Dorsey, this support is a continuation of the late Leroy Merritts dedication to the school.
Providing the high-quality, personalized instruction and support to Friendship Schools students is critical, Dorsey said. In providing these grants, we hope to help the school continue to build its student body without diluting the quality of the education program they offer.
Children enrolled at Friendship School are normal functioning, highly intelligent, and generally very creative; which is typical of students who have dyslexia or other language-based learning differences. The Friendship Schools staff specializes in bridging the neural pathways within the minds of students; helping them process information as it is presented in mainstream education.
The school uses the Orton-Gillingham methodology, a multi-sensory approach widely recognized for its effectiveness, blending visual, auditory and kinesthetic modalities in the learning process. Friendship offers a full curriculum covering all core academic subjects as well as art, music, drama, physical education and computer literacy.
According to Teresa Ankney, Head of School, Friendship School offers a three-to-one student/teacher ratio, ensuring that every child has the care and individualized attention needed. We embrace students in a highly nurturing environment that acknowledges the sensitivity of the students and strives to create a safe haven for learning, Ankney says.
About Merritt Properties

As an established market leader with more than 40 years of experience and success, Merritt Properties has an unmatched reputation for our commitment to our customers and the communities we serve. With 16 million square feet in more than 70 locations, Merritt owns and manages the largest privately held commercial real estate portfolio in the Baltimore/Washington region. For more information about Merritt Properties please contact Melissa Teague (410-594-7435 or mteague(at)merrittproperties(dot)com) or visit http://www.merrittproperties.com, twitter.com/merrittprop, or facebook.com/MerrittProperties.
About Friendship School

Friendship School serves students in grades one through eight with dyslexia and other language-based learning differences who attend from throughout central Maryland. Friendship offers a full curriculum covering all core academic subjects as well as art, music, drama, physical education and computer literacy. The schools program includes daily one-to-one reading and language-based tutoring, as well as multi-sensory teaching strategies. Friendship School also provides training for teachers to help identify and remediate students with dyslexia. The school serves as a lab school where these research-based best practices are put into action with the student population. For more information contact Teresa Ankney (410-552-6882 or info(at)friendshipschool(dot)org) or visit http://www.friendshipschool.org
# # #
Find More Dyslexia Press Releases
Related posts: