---
---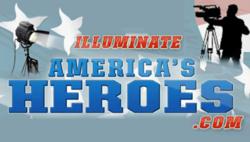 McLean, VA (PRWEB) May 02, 2012
David C. Jamison, Executive Director and founding Board Member of the Foundation To Illuminate America's Heroes stated today, "The Foundation is proud to announce that award-winning documentary filmmaker, Harvey Hubbell V, has joined the Foundations International Advisory Board to assist in the development of a major Hollywood feature film on legendary hero, Merian C. Cooper and the famed Kosciuszko Squadron
Harvey Hubbell V is the CEO/Director, Producer of Captured Time Productions, LLC, a documentary film company that has won more than 50 film and video festival awards, including four Emmys. He shares an 80-acre Avid-equipped farm with his wife, Ande Haas Hubbell, the 2001 Connecticut Filmmaker of the Year. The company is set to release their latest documentary on dyslexia, entitled Dislecksia: The Movie, the result of seven years of research and development.
Harvey Hubbell V describes himself as an itinerant filmmaker, said Jamison, he has shot film from the high-rise roofs of Warsaw to the banana boats of Peru. And to support his documentary habit, he sometimes works on feature films, including a turn as Columbia Pictures community liason for the movie: Mr. Deeds, shot on location in New Milford, Connecticut. Mr. Hubbell brings a wealth of experience to the Foundations International Advisory Board, including a passion for telling the world the story of legendary Hollywood Producer and incredible hero, Merian C. Cooper, a passion he inherits from his father, Harvey Hubbell IV, who spent a lifetime collecting memorabilia regarding Cooper. And, just as the Foundation is producing the film in memory of former syndicated columnist and Pulitzer Prize winner, Jack Anderson, who dreamed of this Foundation, we also dedicate this mission to telling the Cooper story to the memory and dreams of Harvey Hubbell IV, for his dream of seeing this inspiring story told to the world.
The Foundation has named Merian C. Cooper the "Greatest American Hero Of The Twentieth Century" and "Hollywood's Greatest Hero". The Foundation's mission is to produce a major Hollywood movie about Merian C. Cooper and the famed Kosciuszko Squadron he created to repay America's greatest debt in the Polish-Bolshevik War of 1919-1921.
Harvey Hubbell V joins a group of distinguished American and Polish experts, said Jamison, The International Advisory Board is comprised of experts in American and Polish history, aviation, film and production, all of whom share a passion for the story of Merian C. Cooper and the group of American and Polish aviators who formed the famed Kosciuszko Squadron to aid Poland in the Polish-Bolshevik War of 1919-1921. This outstanding and true story of their risk for freedom in remembrance of the personal sacrifice of two Polish officers, Tadeusz Kosciuszko and Kazimierz Pulaski, who came to Americas aid during the Revolutionary War, is one that simply must be made into a feature Hollywood film for the world to see.
Other members of the International Advisory Board include:

** Anthony J. Bajdek, Chairman, is President/Founder, American Association of the Friends of Kosciuszko at West Point; National Vice President for American Affairs, Polish American Congress; President/Founder, Polish American Congress of New Hampshire; and Associate Dean (ret.) and Senior Lecturer in History, Northeastern University.
** James V. DArc, Ph.D., is Curator of the BYU Motion Picture Archive and the Arts and Communications Archive, L. Tom Perry Special Collections at Brigham Young University. Dr. DArc has taught motion picture history for over 30 years. The Merian C. Cooper Papers were acquired for BYU by Dr. DArc in 1986 and contain correspondance, scripts, unrealized projects, scrapbooks and over 800 photographs spanning the length of Coopers amazing career. The Cooper Papers have been used for many articles, television documentaries and the basis for Mark Vazs biography of General Cooper, Living Dangerously (New York: Villard, 2005)
** Dr. Michael Peszke, Emeritus Professor of Psychiatry, University of Connecticut, Consultant to the Kosciuszko Squadron Exhibit at the New England Air Museum which was supported by the Polish-American community, and a Historian who has published numerous works on Polish Military history, including the Kosciuszko Squadron.
** Michael Orzachowski , a journalist and writer in Poland. He is the author of the screenplay Wings of Freedom-1920, a screenplay about the true story of Merian C. Cooper and the Kosciuszko Squadron in the Polish-Soviet War of 1919-1920. His screenplay received a scholarship and is supported and backed by the Polish Film Institute in Poland.
** Mr. Pawel Biel is a Polish-American Cinematographer based out of New York City. He has worked on a number of films, documentaries and commercials for clients including Warner Brothers, the History Channel, SYFY, BRAVO, BBC, NBC and ABC. The story of Marian C. Cooper and the Kosciuszko Squadron has greatly influenced and inspired Mr. Biels work and life. He is originally from Krakow.
** Mr. Tomasz Jegierski is the founder and CEO of FT Films in Poland. He and his company specialize in the production and distribution of true historical films. FT Films is recently doing promotion and distribution of Five Days of War about the war in the Republic of Georgia, staring Val Kilmer, Dean Cain and Andy Garcia. The film, directed by Renny Harlin, will have a Polish premiere at the Krakow Film Festival on April 14, 2012.
** Igor I. Sikorsky, Jr., Esq. , son of aviation pioneer and Founder of Sikorsky Aircraft, Igor I. Sikorsky, has been active in aviation history both as a lecturer and author. Active in the Polish American groups as Vice President of the Polish American Cultural Club of Greater Hartford and Counsel to the National Polish American Cultural Club. Mr. Sikorsky has been involved in the presentation of the history of the Kosciuszko Squadron and the role of Merian C. Cooper as an American hero.
** Peter Rodino, Esq. is Founder & President of Rodino Consulting, LLC, a business lobbying/consulting practice since 1996 with a focus on helping enterprises develop business plans, implement marketing strategies and acquire investment capital from private, institutional and government sources.
** Ron Friedman, formerly Director of Marketing for ABC Television, is a content developer, producer and consultant of innovative television programming for network, cable/satellite, internet and new media.
** William Ciosek is a founding Board member of the Foundation. He has researched the story of Merian C. Cooper and the Kosciuszko Squadron for over 15 years. He has written the film treatment entitled Honor to You and created and produced the video treatment, entitled The Greatest Story Not Yet Told!, both of which are available within the Foundations website at http://www.illuminateamericasheroes.com
The Foundations website at http://www.illuminateamericasheroes.com contains the story of Merian C. Cooper and the Kosciuszko Squadron, told through an embedded YouTube video, entitled: The Greatest Story Not Yet Told! The written film treatment, Honor To You can be clicked and read within the website. The website also contains a donation link which allows everyone who supports this great story and mission to make tax exempt donation of any amount. All donations will greatly help the Foundation to illuminate this heroic story to the whole world.
For further information and questions about the Foundation and the Marian C. Cooper/Kosciuszko Squadron Film Project, please contact David C. Jamison, Executive Director at davidj(at)illuminateamericasheroes(dot)com or by calling (334) 718-9501.
Contact information: David C. Jamison, Executive Director

The Foundation to Illuminate Americas Heroes, Inc.

http://www.illuminateamericasheroes.co
Related posts:
Tags:
Advisory
,
AwardWinning
,
Board
,
Cooper
,
Develop
,
Documentary
,
Film
,
Filmmaker
,
Group
,
Harvey
,
Help
,
Hero
,
Heroes
,
Hollywood
,
Hubbell
,
Joins
,
Legendary
,
Merian